The KARLA HYDRAULICS division specialises in the production of hydraulic cylinders (also called a linear hydraulic motors) and telescopic hydraulic cylinders usually used in mechanically powered roof supports (mining industry), chain and belt conveyors and shearers, agricultural and construction machines, presses and other machinery which contain hydraulics. The bodies of our cylinders are made from honed ST-52 quality steel tubes or heat treated tubes with a strength up to 900MPa. Piston rods are made from common construction steel or high-strength steel or stainless steel class 17 ČSN ISO …. (equivalent of DIN 1.4411). Cylinders can be produced up to 320mm inner diameter and with a stroke up to 2000mm (2 metres).
Welded body cylinders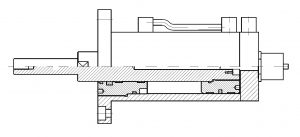 Body and both end caps of these cylinders are welded together so they cannot be disassembled.
Screwed body cylinders

These cylinders are possible to disassemble and that's why it is easier to repair them. Both end caps are screwed either outer or inner to body. Another possibility of end cap fixing is by using studs.
Telescopic hydraulic cylinders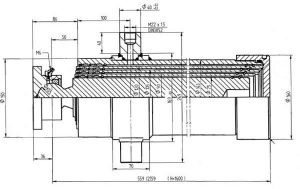 These cylinders enable the higher stroke compared to common hydraulic cylinders. The number of stages depends on the basic diameter of cylinder. KARLA HYDRAULICS produces telescopic cylinders up to 250 mm working diameter.
Mining hydraulic props

These props are heavy-duty devices usually used in hydraulic chocks which are neccessary equipment for underground mining. KARLA HYDRAULIC produces one stage or multi-stage, single-acting or double-acting props. The main features are robust design, working pressure 32MPa and testing pressure 48MPa, mixture of water and oil as working fluid. It is possible to deliver hydraulic props with shock-valves for mine workings with seismic bumps.
Special cylinders

Special cylinders are used, for example, in the chemical or food industry and laboratory devices. These cylinders can be made fully from stainless steel or can be suited for higher working pressure (more than 32MPa).
Hydraulic cylinders can be:
single-acting or double-acting
with a clevis bracket, with flanges, with pins
with the piston rod end of hydraulic cylinders outer thread or internal thread, according to customer requirements and design options
with pressure input with metric outer or inner thread or with the STECKO connector
with a hollow piston rod
with a constant or a controlled shock-absorber in end positions
with a built-in safety lock (fall valve)
with a constant flow or flow control at the inlet;
with built-in hydraulic lock (preventing the over extention or over retraction or both), acting in the course of the entire stroke
with mechanical lock in end positions
with bypass valve in a piston – operated either mechanically in the end positions, or hydraulically (pressure) in the course of the entire stroke
with electric position indication of the piston in the end positions
with a linear position measurement of the piston in the course of the entire stroke
with a defined relation between the stroke and rotation of the piston rod
with the pressure fluid supply through the body or piston rod
with a built-in shock-absorber unit, working on the principle of compressing the nitrogen, or a separate shock-absorber unit
with increased corrosion and chemical resistance, heat resistance, mechanical resistance, pressure resistance, and the total life time
for use with biological oils, water, emulsions